With the arrival of my stilas, it's official that all of my PO stuff are here. *Yayy!!* So here's this month's haul.
Makeup Forever HD Foundation shade '128 - Almond'
Stila Illuminating Tinted Moisturizer shade '01'
MAC Face and Body Foundation shade 'C4'
NARS Loose Powder 'Beach'
Stila Lip Glaze Collection
Sariayu Eyeshadow 'Reog'
Sariayu Eyeshadow 'Merak Kasmaran'
Except for the Sariayu eyeshadows, which is local brand, I have to CPed all those products, like, halfway around the world. Simply because, I can't find those in my own country. Well, except for Makeup Forever but the shade that I ordered is Sephora exclusive and there's no Sephora here, so.. well.
Anyway, it's almost the end of 2009. And I made a promise to myself that:
I will not buy anything makeup related until the end of this year.
And I will make 2010 as The Year of Brush. I'll start collecting brushes.
I hope I can fulfill my promise. I mean it's only two more months to go right? Well, except that I snapped yesterday and ordered Urban Decay Deluxe Shadow Box. But that's it.. Oh, and Stila CanCam Palette. I can't help it since they're so pretty. I mean, look: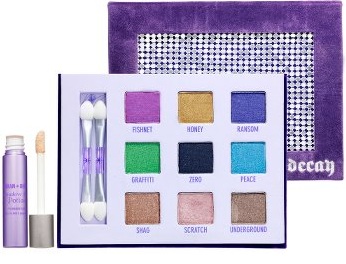 How could you not fall in love with them?? And Sephora is having Friend and Family Sale so I don't want to miss it.
But really, those palette are gonna be my last makeup-related purchase for this year. *crossing fingers*